Expat professionals should consider South Africa's unique advantages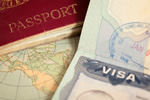 South Africa isn't one of the best-known destinations for ambitious expatriate professionals, but it's definitely one of the most spectacular.
The sheer beauty and diversity of this vast country set at the lowest point of the African continent needs to be seen to be believed, and its totally unique variety of cultures have made it a melting pot of ideas and initiatives. Its influence on the rest of Africa is huge, with the continent following where South Africa leads giving an exciting prospect for ambitious, adventurous expat professionals in many diverse fields of expertise.
As regards arriving and settling, choosing one out of the four major cities is dependent on individual specialities as regards career opportunities and lifestyles. Johannesburg has a thriving expatriate community largely concentrated in the tech sector's sub-sectors of software engineering, development of hardware and internet security. For those with their feet touching the ground, there's also a thriving financial sector.
Cape Town is the country's prettiest location, popular as a tourist destination and hosting international insurers' head offices as well as finance hubs. It's great for setting up a business due to its creative focus, with opportunities in the education sector, the growing tourism industry and shipping all of interest to expats. In addition, the city has a thriving nightlife scene, and international-style restaurants are found in plenty.
Durban's need for foreign talent, its setting on a stunning coastline and its laid-back vibe make it a favourite for expats looking for something different. Its economy is massively diverse, with a range of expat professions and skills always in demand. From financial professionals to mechanics and including architects and those with experience in the shipping industry, all are welcome here and, for a large city, its cost of living is surprisingly affordable.
Located close by Johannesburg, pretty Pretoria is well known for its floral, scenic ambience as well as for its well-hidden industrious nature. Again, it's a hub for finance and tech, but it's also playing an important role in the country's infrastructure development and needs expats experienced in engineering, construction and architecture. One bonus for expats fascinated by African wildlife is that the city lies within easy reach of famous Kruger National Park and several other Big-5 reserves.