Cyprus cancels 26 Golden Visas and starts full investigation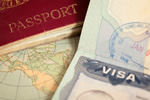 The Cypriot government has now withdrawn a number of its Golden Passports and is further investigating possible abuse of the controversial scheme.
A Cypriot government announcement yesterday confirmed 26 Golden Visa purchased by wealthy expat investors have been withdrawn, adding it's now running comprehensive background checks on all Golden Visas issued prior to the start of 2018. The unnamed 26 individuals 'mistakenly given the visas' included five Chinese nationals, eight investors from Cambodia and nine from Russia, along with a number from Iran, Malaysia and Kenya.
Clouds of suspicion have long been hovering over the Golden Visa scheme, introduced in 2013 to stimulate wealthy expat individuals' investments in the countries offering the facility. For many large-scale international investors, the visa's main draw is that it gives a backdoor into Europe via an EU passport, as well as access to the lucrative European economy by allowing non-European expats identical rights to those conferred on EU member state citizens.
As regards the Cypriot version, in the early days of the scheme all such investments were forced to be made through Cypriot banks in order to insure against the known risk of money laundering. A recent statement made by the island's Minister of the Interior attempted to clarify that all necessary audits had been carried out with due diligence since the scheme began, adding that everything was done in line with the relevant EU directive.
It seems the 26 Golden Visa cancellations took place following EU concerns over checks on applicants as regards prospective purchasers' possible links to tax evasion or even criminal activities. Prior to the cancellations, an initial nine Cyprus Golden Visa investments out of some 2,000 were discovered to have flaws. Similar checks are now being carried out on Golden Visa passports issued in Bulgaria, Portugal and Malta, with no results as yet announced.