Is Mexico an escape hatch for Brit expats caught up in Brexit?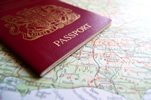 Following in the footsteps of many thousands of US expats, British retirees may find they've made the right decision by moving to Mexico.
For decades, Mexico has been the favourite location for USA expats craving great weather, an easy trip back home when necessary and a cost of living that's reasonable in comparison with the USA. One major attraction which unfortunately wouldn't apply to UK expat retirees is that Mexico is just a drive away from a good proportion of the USA. However, its beach towns might well provide a comfortable haven similar to that in Spain, Italy or southern France.
How-to-do it lists suggest visiting several times in different seasons, as sunny summers can be followed by cool mountain breezes during the winter season and woolly sweaters are often necessary in January, much as they were in European beachside retirement havens. There's plenty of reputable information online as to the choice of locations, but visiting is the only way to make sure it's what's needed. A varied choice of accommodation fulfils all needs, set either in cities with everything on the doorstep or in rural locations suitable for a quiet life.
The quality and availability of healthcare depends on your choice of location, with English-speaking doctors more easily found in larger towns and cities. Checking out clinics, dentists and hospitals whilst on a visit to your preferred home from home is advisable, and talking to long-stay expats is the best way to get to know the area. One decided advantage is the ease of ordering luxuries as well as necessities online and having them delivered to your door in a fast, dependable manner.
Almost every beachside location in Mexico will have its expat community, although the vast majority of members will be from the USA and may not find it easy to relate to British expatriates. The two cultures run parallel on a number of issues, but can be drastically different in others. Just as in the home country and Europe, it takes time to make real friends. If you've formerly lived in Spain and have at least some Spanish, that's a good start for getting to know the local community, but the expat community will be your mainstay.
Another important task is getting your personal papers in order, as you'll need birth, marriage and even divorce certificates for much of your official business in Mexico. Passport renewals if necessary as well as drivers' licenses should be copied and kept somewhere safe, with extra copies also kept with friends or a family member in the home country. Especially if you'll be receiving the UK state pension, choosing a bank which doesn't charge a small fortune for its service is important, and banking online is safe and convenient. If everything's in order, you'll enjoy your life in Mexico as much as you did in Europe.