Costa Rica wins strong expat ratings in happiness survey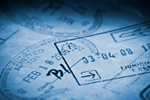 Yet again, a survey celebrates Costa Rica as one of the world's happiest countries.
Would-be expats might not realise that happiness should be at or near the top of their wants lists but, according to the World Happiness Report, it's actually more important than a stunningly high salary and a life of luxury. Costa Rica's ratings were great news for the country, as not only was it listed as the happiest in Latin America, it also took second place after Canada in the Americas sector and was the 12th happiest out of the 154 countries surveyed.
The survey itself wasn't just another question and answer study with expat participation, as more than 100 experts in the fields of economics, psychology and anthropology worked together in compiling the results, using a Gallup poll to also providing data. Up for examination were quality of life, freedom, opportunities, equality, life expectancy and the level of democracy.
As regards other expat necessities, the more traditional types of survey fill in annually with reports on affordable healthcare, amazing natural beauty, peace and quiet, salary levels, cost of living and friendly locals, all of which combine to give Costa Rica a more than satisfactory expat lifestyle. However, the country isn't claiming to be perfect, with one reason for expat relocation back home seeming to be the culture and language.
Happy long-stayers say those who leave after a short time have come with unrealistic expectations caused by a lack of due diligence as regards choosing Costa Rica in the first place, thus dooming themselves to failure before they've even arrived. Seasoned expats are fully aware that not everything online is based on fact as well as personal experience, with advertorials the worst offenders.
Local online forums give a quantity of accurate information provided by resident expats in response to questions, and are a good way to judge whether a destination is right or is just being over-hyped for commercial reasons. However, the best way to evaluate any potential location is to arrive for a short holiday and see for yourself.