Expat arrivals in Shanghai soon learn to love its rich heritage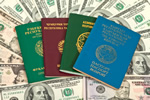 Expats living and working in Shanghai are fascinated by the city's rich and varied heritage.
China may well be the relatively new kid on the block for the legions of expats now resident in its mega-cities, but the vast country's heritage and history is entwined with that of the West. Expats who've chosen Shanghai as their base of operations are revelling in the rich, varied heritage on show in its' fascinating mix of Chinese and European architecture. Luckily, they've access to a society proud to show off its complicated and colourful history via regular meetings, events and explorations of its remarkable heritage.
Historic Shanghai was first founded 20 years ago as a means for the then far smaller expat community to get to know the city they'd decided to call home. Since then, the regular tours, meetings and events have become essential for expatriates keen to find out all they can about their new city of residence. It's no surprise that expats find they've a fascination with the city over and above their reasons for arriving in the first place, with many wanting to know how and when it was founded, and why it became a 19th century hub for traders from the West. Over the years since its founding, the group has visited historic buildings designed by both Chinese and Western architects, and the city's still standing Old Town area holds the city's oldest residential communities, although it's sadly soon to be redeveloped.
Shanghai was founded well over a thousand years ago and had become one of China's most important trading ports shipping tea, porcelain and silk to the West by the mid-19th century. In those far-off days, British expatriates lived in their own settlements, as did American and French traders involved in exports as well as the import of opium. Many of the original European styled-buildings on the Bund are still standing as witness to foreign communities long gone and now replaced by an influx of 21st century adventurers. In fact, for several hundred years and more, Shanghai has welcomed incomers just as it does today, sharing its history and heritage with new arrivals and welcoming them into the city's international community.