Stressed out expats should head for Europe's ski villages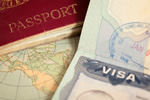 Given that quality of life and a healthy lifestyle are now priorities for expat professionals looking to relocate, Europe's finest ski destinations provide fun as well as exercise.
Many of the best-known ski resorts in the Alpine region are located within reasonable distances from cities in Austria, France and Switzerland known to be expat hubs. Germany and Italy also provide a selection of resorts, but at a slightly lower standard. Unfortunately, newly-arrived expats have heard or read about most of the famous skiing destinations, but wouldn't know exactly where to find them geographically or how to select the best one for their needs.
Firstly, some of the region's most famous resorts aren't known world-wide for the actual ski runs, they're famous for the high life lived by the seriously wealthy poseurs and fashionistas in much the same way as London was the happening place in the 60's. For expats looking to learn or upgrade skiing skills as well as enjoying a holiday from work, there are far more suitable and less expensive resorts than St Moritz or Gstaad. Another problem for would-be expat skiers is getting to the chosen resort in the first place, especially at peak periods. Most ski villages are connected only by two-lane, mountainous roads which can shut down almost without warning when it's snowing.
One remote, semi-private destination for expat skiers is Austria's Ladis base, set close to the Serfaus Fiss ski runs and featuring quaint hotels, its very own castle and a feeling of going back in time to a century ago. The Ladis runs are smaller, quieter and less touristy, and it should be remembered that Austria is far less costly than France and Switzerland. For expats in France already, the massive Les Trois Vallees is still home to its oldest resort at Meribel, offering a choice of every style of accommodation from cottages to luxury hotels. Courchevel is best avoided unless you enjoy swanning around in a fur coat. All in all, a short break in a ski village is a good way to relax after the stress of relocating to an unfamiliar land, and the clean air is great for overall health.