Why does mainland Greece rarely feature on expat itineraries?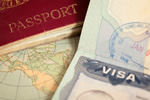 One European country which only seems to crop up rarely in expat forums and online media is Greece.
Potential UK expatriates looking for the perfect place to retire, start up a small business or just chill for while will find endless internet coverage on Spain, France, Portugal and even Italy to browse, research and contemplate but, apart from its better-known islands and its capital Athens, mainland Greece gets missed out more often than not, British expats already resident in this ancient land might well hope this will continue, but those still deciding on exactly where to base themselves post-Brexit could well be missing out.
A combination of practicalities such as safety and security, a year-round pleasant climate with few extremes, a low cost of living and genuinely friendly locals along with stunning natural beauty and a fascinating three millennia of history is all on offer, along with a wide choice of areas in which to settle. Given that career-minded expats usually give it a miss due to lack of opportunity, most expat communities are composed of retirees or expat small business owners. One of the country's major plus points is that British expats are genuinely welcome in every location from coastal villages through larger towns and even in the few large cities.
For expats wishing to work, the tourism sector is the obvious place to start, even although it's not yet known how badly the Brexit lack of free movement for Brits will affect the overall number of visitors. Digital nomads should be able to cope, although choosing a location with fast internet connections might not be straightforward. Teaching English is another route to living and working in Greece, as Greek parents are generally strict about their children's 21st century education. Oddly enough, although the Greek language may seem daunting at first, it's far easier to learn than many other European languages.
Downsides include a creaking healthcare system outside Athens and Thessaloniki, with private health insurance a necessity especially for elderly expats. For those wishing to buy a home, it should be noted that every region has its own unique rules as regards construction, with what works well in one province totally irrelevant in its neighbouring regions. One of the most popular as well as most historic regions is the Peloponnese, home to over three thousand years of history easily seen as its remnants are regarded as part of the local landscape.
For example, those enjoying the long, safe beaches in Tolon can take a short stroll to the still-standing stone walls of a 2,500-year old Mycenaean fortress at the end of the sands. Just a short drive away is Mycenae itself, from which Menelaus sailed with his army to Troy to rescue his wife Helen, thus starting the Trojan Wars and providing Hollywood with an endless source of movie scripts almost three millennia later!