Dealing with loneliness in Germany as a newly-arrived expat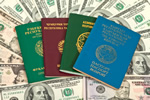 Germany is considered to be a popular destination for career-hungry expats, but living and working in its big cities can result in loneliness and a lack of human contact.
It's no surprise that Germany's industrial heartlands crop up in many annual surveys as good places for expat professionals to gain experience, but even career junkies need friends from time to time. The country ranks high for job satisfaction, career advancement and also for university education but tanks when it comes to out-of-work recreation and overall friendliness, leaving expats struggling to find any quality in their lives. In the latest Expat Insider study, Germany hit rock bottom along with four other unfriendly expat locations, with the general opinion stating Germans don't encourage expats to socialise or be part of life outside the office.
One reason would seem to be the language, with half of respondents saying they found it very difficult to learn and even more difficult to live without being able to communicate in English. It has to be said that Germany ranked highly in the affordability and quality of its university education, and was also popular for its job opportunities, although workplace discrimination was mentioned more than once. Salaries were considered acceptable, with 60 per cent earning more than in their home countries, and public transport won praise. However, digital life was considered unsatisfactory, with slow internet speeds and poor phone reception.
In the end, it all traced back to friendliness, which seemed to be unavailable to the majority of respondents, leaving many to regret their choice of destination. Advice on how to deal with a lack of friendly social contact includes the obvious, such as joining clubs or finding a hobby, tricky if you're struggling with an unfamiliar language. One solution is to join a language school group rather than taking on a private tutor, as interaction with others in the same situation can stimulate real friendship. Some classes are more friendly than others, with those aimed at expats planning to live long term in the country the best bet.
Another tip is to learn more about the culture in Germany, thus stimulating ideas for conversation should the opportunity present itself. Watching local TV and reading German news in English also helps. If you're taking on a flatshare until you're settled in, it's possible to find new friends, but it should be remembered that many Germans keep their personal space private.