TM30 chaos now affecting expat business confidence in Thailand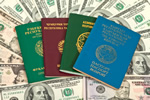 Thailand's draconian TM30 laws are still in the news as NGOs and multinational corporations join the fight.
Foreign businesses as well as commercial and voluntary organisations based in Thailand are increasing the pressure on the Thai government to either abolish or critically update the hated reporting requirements. Most press releases are concentrating on the forms' draconian nature, immigration offices' confusion as regards interpretation and the invariably inconsistent application of the requirements. Rumour has it that even local immigration offices aren't best pleased about the re-establishment of the decades-old law.
The European Association of Business and Commerce has made its views clear with a request to the Thai government to simply bin the TM30 requirement after first removing many expat categories from its scope. Major issues are being raised about its usefulness and value, centering on the extreme unlikelihood that those up to no good would report every time they left their places of abode for a night and report again within 24 hours after their return. The focus now is its effect on the ease of doing business in Thailand, a crucial issue due to the country's present economic situation.
Although the law won't affect tourists staying in upscale fully registered hotels which report on guests' arrivals using the TM6 arrival card, for smaller B&Bs and AirBnB operators it's a major problem, as many may not even be living in Thailand and are therefore unable to either report an arrival or check out their expat or tourist clients as to whether they've obeyed the requirements. In addition, condo investors who let out their properties to longer-stay visitors may also live overseas. As regards the difficulties experienced by expats attempting to use the online TM30 reporting site, it seems they haven't yet been fully resolved, despite official promises that changes will be announced in the very near future.