Global mobility needs happy expat families to make it work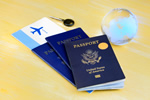 Global mobility can be a welcome challenge for ambitious expats, but it won't work if the accompanying family isn't happy.
Transferring from the familiarity of your home country to a totally different culture is a huge challenge, both for expat professionals and also for their families. Expatriation isn't the same as integration, with one removing previous support systems and the other creating new ones, but this isn't done in a hurry, especially for partners and children who don't have an established pattern of work to fall back on.
If the move is a relocation within the same company, the familiar structure is still in place and can be used to get up to speed quickly, but for families the new location is a new universe without support systems.
Another issue for trailing spouses and children is the new language, essential for basics such as shopping and dealing with children's schools and other activities. Dumped down in a foreign country with an unfamiliar language and expected to get on with it doesn't sound like the initial persuasive description of life overseas, even if the weather is better than at home. The crunch comes after the rows start, with unhappy spouses the main reason why assignments are cut short. Put bluntly, if the family isn't successful, the assignee won't be either, as the move has to work for everyone involved or it won't work at all.
If the assignment fails and repatriation is the result, both the assignee and the family must realise this can be as tricky as emigrating as the home country's culture will almost invariably have changed during the time spent overseas. For the breadwinner, fitting back into the same company in the same manner seldom works, as colleagues have moved on, jobs have changed and the position offered may not be as suitable as expected. Repatriated professionals may well feel disadvantaged, or even embarrassed they couldn't make their relocation a roaring success. At this point, it's common for a returnee to leave the company rather than being seen as a failure by his peers.