Thailand expat community attacked again with new hospital dual pricing law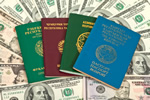 The embattled expat community in Thailand is in shock again due to the new dual pricing laws on public hospital charges.
Dual pricing has always been an issue with expats living, working or retiring in Thailand, with many simply not using services where it's known to happen. Its official application to public hospitals' charges is being seen as a demonstration of prejudice as well as an inappropriate move at a time when the baht is high against all Western currencies and the country's cost of living is soaring. To many expats this new rule, combined with the TM30 fiasco, the changes to the retirement visa's financial requirements and the threat of compulsory private health insurance is proof positive they're only wanted in the country as cash cows – a view which is increasingly causing many to reconsider their futures in the former Land of Smiles.
Worst affected financially by the new charges are retirees who've married Thai women and now have young families of their own as well as supporting their wife's elder relatives. Many use public hospitals because of the ever-increasing costs and lack of pricing transparency in the profitable private hospital chains, and the high baht is making budgeting far more difficult than in the past. The majority of working expats in Bangkok and other major cities are coping for now but, as with tourist numbers, those accepting relocations to Bangkok are fewer than in the past and already established expat professionals are considering moving on at a time when tourist numbers are declining due to bad publicity and the over-strong baht.
Although Cambodia is now mostly out of the running as an expat destination due to the informal invasion of Chinese speculators, investors and casino operators, both Vietnam and the Philippines are expecting to benefit from the increasing problems caused by what expatriates are now seeing as out-and-out prejudice against Westerners. In these two alternative destinations, visas are easier and less expensive to get, and both governments, admittedly miles apart politically, seem to recognise the benefits of older expats who wish to spend their retirement years as well as their pensions in a country which respects and values their contributions.