Thailand TM30 reporting chaos catches world media attention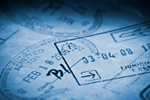 They say good news travel fast but, in the case of Thailand expats' problems with the wildly unpopular resurgence of TM 30 reporting, bad news travels even faster as the issue is now world news.
Resistance against the problems caused by the re-hashing of a 1979 law started small, with a petition raised in the Isaan region in the hope that Thailand's immigration authority might reconsider. The speed at which the issue was taken up by online expat forums came as a surprise, as most long-stay expats living legally in Thailand know to keep their heads down as regards the authorities. Ironically, the letter of the law had always been understood as a means to have hotels and guest houses keep the government informed of tourists rather than a tool to track expats should they wish to take a short holiday within the country or even stay overnight with friends rather than risk driving home should drinks have been taken.
For those in the kingdom for business purposes involving frequent trips to neighbouring countries, it's more of a nightmare, and for many expats living a good distance from the nearest immigration office it's even worse, as reports have to be done within 24 hours even for those several hours' or more's drive away. Teachers who spend a weekend away from their registered addresses would need to take Monday morning off to legally report the fact they're back home, and if the immigration office is busy, filing the report might well take all day.
The issue is now world news, with even the UK's BBC News website picking up on expats' feelings on the subject. Expats across the country are now muttering about their personal freedoms or lack of them, with some saying it's the last straw and preparing to leave. It's not just expatriates who're affected, as their landlords are expected to report their comings and goings within the same timescale. Many landlords are refusing to comply, and others don't even live in the country, leaving their expat tenants to pay the fines, and if a Thai spouse is the de facto house owner, she has to report her husband's comings and goings.
The app suggested by the authorities as the answer to everyone's problem has issues with access and other technical problems, even although authorities are insisting it hasn't. For the Thai authorities, it's all about 'good guys in, bad guys out' – a slogan composed by a previous head of immigration, but for expats it's all about feeling even more unwelcome than before, leading many to seriously consider leaving.