Expats in Vietnam not interested in career advancement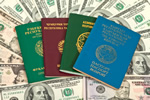 In spite of the fact that Vietnam is now moving towards Asian tiger status, the majority of its expat community aren't interested in career advancement.
A recent online survey of expats by a leading recruitment company produced a surprising result in that 65 per cent of respondents had no ambitions for career advancement as they were happy with their present positions and had chosen Vietnam as a totally new experience rather than another upward step on the career ladder. Some 15 per cent of those surveyed were happy to stay working as freelancers, and 27 per cent were content with being regarded as experts in their fields. Just nine per cent said they had no interest in upward mobility as they planned to return home some time during the next year.
Given the limited range of the survey, which attracted just 110 online respondents, it seems the desire to experience life in Southeast Asia is responsible for the lack of interest in self-promotion. Some 25 per cent were keen to learn about the local culture, with 24 per cent simply wanting to experience a new market for their products or ideas. Just 17 per cent moved to Vietnam for either the low cost of living or a slightly better income than in their previous overseas positions, and 14 per cent had originally arrived hoping for a better choice of job opportunities.
Half of the total of respondents said they were happy with their wage levels and benefits, including relocation costs, home travel and housing expenses, but all wanted paid leave and private healthcare benefits as well. Positive aspects of the move included good relationships with colleagues and the sense of belonging not just to a company but also to the local Vietnamese community.
Expat respondents were mainly expats from Europe, North America and Asia, with most working in sales, marketing, project planning and the provision of professionals services in several sectors. Over half of respondents were managers or company directors, with average salaries set at around $78,750 a year.