Britons escaping Brexit effects should choose Ireland's most friendly city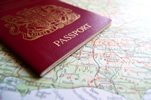 If you're looking to emigrate relatively locally post-Brexit, Cork may well be your perfect answer.
For those Britons who've had emigration on their minds since 2016 but don't want to move too far away from their relatives and friends, the Irish Republic city of Cork may well be the answer. Now named as one of the planet's most friendly cities, its 17th placed ranking by a well-known travel site was helped along by expats' first impressions on entry, local people's attitudes towards visitors and the general friendliness shown to new arrivals.
The compact, charming riverside conurbation comes complete with smiling Irish eyes and clarification for the bewildered during their first few weeks of settling in and afterwards. For older would-be expats not wanting to be a long-haul flight from their loved ones, Cork is a great choice for its regular UK flights, with its attractive setting on an island formed by a convergence of the River Lee adding to its charm. The river reconverges at the southern point, leading to Lough Mahon and Cork Harbour, one of the world's largest natural harbours.
Remnants of the city's medieval history can be seen in its central area, with the city's history dating back to a Viking invasion. The lifestyle is laid-back, perfect for expat retirees, and its setting as a hub for pharmaceutical companies as well as Logitech, Apple and other IT giants make the city of interest to expats with tech expertise looking for a change of scene.
Even although the Irish republic's capital, Dublin, beat out Cork to take sixth place in the study, the city's traditional welcome to strangers coupled with its job opportunities and overall charm wins out for many would-be British expats looking to escape the upcoming threat of a no-deal Brexit and its resultant recession. Interestingly, a number of Asian cities also featured well in the study but, for those seeking to stay close to home in another country, the Republic of Ireland and its two major cities may well be the most suitable option.