How to make the best of your financial situation in the UAE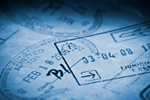 With all the advantages or a reassignment to the UAE, expats can easily be carried away by their new, luxury lifestyle.
Generous salaries, low or no taxation, a high standard of living and year-round sunshine are all highlights of the UAE lifestyle for expats who've made the move to Abu Dhabi or Dubai. However, it's easy to get carried away and forget the unfortunate fact that the vast majority of overseas jobs don't last a lifetime. Being an expat is, by definition, a transient lifestyle valued for its variety as well as its positive effect on bank balances and CVs.
It's wise to calculate how long you're planning to stay and adjust your spending to suit your expectation. The first question you should ask yourself is whether your relocation package provides enough extras for your preferred lifestyle. If the answer is either 'maybe' or 'not sure', it's time to factor a percentage of additional costs into your financial plans for the period, even if this means a little less spending on the delights of your new location.
Tax is another issue, with different countries all having different rules as to how much and when, meaning just because your earnings aren't taxed in the UAE they'll not be taxed in the home country. It's your actual tax residency which is important with, for example, a UK expat not necessarily exempt from UK taxes as there's no reciprocal agreement with Britain. Professional advice is the best way forward, but choosing your local advisor is tricky at best. Bad advice at this point could well result in your losing more of your savings than if you'd simply paid the tax due. In addition, savings are important for your later life, with ensuring you've been well advised crucial for your future retirement.
You'll most likely be approached by an over-friendly expat IFA who'll attempt to guide your savings into term-dependent offshore plans possibly linked to life insurance. At this point, a polite refusal is the best defence against being mis-sold a plan you'll spend a number of years bitterly regretting. It's a sad fact that salary-heavy expats all over the planet are targeted with mis-selling in this manner, but your friendly local IFA will be grateful for the massive commission he's just earned!
If you've time and inclination, studying the basics of self-investment, starting small and growing your portfolio along with your personal experience is one way forward. Another is to take advantage of the inevitable massive drop in UK property prices post-Brexit by becoming an absentee buy-to-let landlord after you've realised expat mortgages are actually available at reasonable rates.