Abu Dhabi reinvents itself as a luxury international retirement hub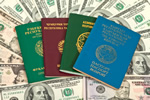 Since the recent changes in property law benefiting expats, Abu Dhabi is reinventing itself as an upscale designer retirement hub.
The new UAE laws on expat freehold ownership and the new retirement visa scheme are aimed at creating the right ambience for expatriate retirees with capital to invest in upscale property and the Gulf State lifestyle. Foreigners can now buy and own real estate in designated areas without any time limitations, with the emirate now marketing retirement community housing estates in prime locations.
According to local real estate agents, the new developments are based on the USA's Sun City development, a retirement community available to those aged 55 years and over in which all facilities necessary for older people are provided, including unlimited social events and activities. The latest Abu Dhabi offering is the Hidd al Saadiyat project, built on a peninsula jutting out into the Gulf and claiming no single property is more than 300 metres from Saadiyat beach or the beach backing the lagoon. The development's first phase is about to come onto the market, with four to seven bedroomed contemporary-style properties on offer.
Amenities include a yacht club, retail outlets, a pool and gym complex and several mosques, and phase two is now under construction, boasting a hotel, school, apartment blocks, restaurants and cafes. Other islands within the investment zones include Reem Island, Yas Island, Al Raha Beach, and mainland sites include Hydra Village and Al Reef. Another upscale development available to expatriates is Azure, located on Al Reem Island in one of Abu Dhabi's most sought-after, exclusive districts. All in all, the emirate is hoping to attract not only expat professionals at the end of their careers, but wealthy expat retirees from across the world.