Beachside life as an expat retiree isn't just for millionaires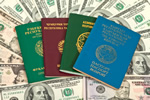 Beachside retirement destinations aren't only available to millionaires.
Spending a well-earned retirement on a pristine beach is the dream of many would-be expats, but many may well believe it's only for millionaires. However, they couldn't be more wrong, as all it takes to retire in the sun is to know where to look. This world is a huge place with literally millions of beautiful beaches, with only a few in upscale locations taken over by the ultra-wealthy. Air travel has revolutionised retirement, opening up destinations most people didn't even know existed and bringing them within reach even to retirees with minimal pensions and some savings.
Ecuador has been an expat retiree favourite for a while, and with good reason. The beachside resort-style development of Salinas is crammed with amenities, all close by a beach that's miles long and beautiful. It's a tourist haven as well as perfect for long-stay retirees, and is surprisingly inexpensive given what's on offer. Rent is reasonable, as are fresh seafood dinners in local eateries or the lively local markets.
For those in love with the ocean, Panama's Pedasi town has all necessary amenities for day-to-day life plus water sports including deep seas fishing and scuba diving. It's just 45 minute's drive from Las Tablas city with its hospitals and malls, and the local people are friendly and supportive to new arrivals. Another Panama delight is Bocas de Toro, with its island lifestyle perfect for retirees. Views across the Caribbean Sea, white sand beaches, reggae music and off-the-radar peace and quiet mix with planet-protecting volunteering opportunities, and the expat community is organised, welcoming and ultra-friendly.
Portugal has been popular with British retirees for decades due to the moderate climate in beachside towns such as Cascais. Nearby are golf courses and sailing is a favourite hobby for many in the long-established expat community. The town's economy depends on tourism, and it's the perfect choice for expat retirees of all nationalities. For those fascinated by Asia, Malaysia's offshore island of Penang and its capital George Town are the answer to dreams. It's a former British colony, meaning English is still widely spoken, and boasts charming old buildings, bustling markets and pretty beaches. It's a peaceful setting for retirement, with its vibrant culture is fascinating in all its forms and celebrations.