How to make the move overseas a success for the entire family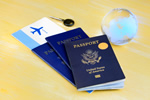 Even for adults, uprooting and starting a new life in a strange land can be daunting, but for children it's a mix of anxiety and excitement.
When you're planning a career-oriented reassignment overseas, it's inevitable your kids won't have a say in the decision, but keeping them in the loop will ensure the move has a positive outcome for them. Leaving the familiar for the unknown is a huge commitment even if you're going it alone, with taking the family along creating even more unknowns. Of course, everything depends on the chosen country, with some destinations more favourable for family transfers than others.
A recent survey chose three leading European states as good for family relocation – Switzerland, Sweden and Germany – and another study picked out the three Scandinavian nations of Denmark, Norway and, again, Sweden. Affordable education and childcare were focuses of expats living in Scandinavia and also in Spain, France and Germany. One reason for the Scandinavian countries' high ranking was state-subsidised health systems within which children receive free treatment.
One essential for a successful move overseas en famille is keeping your children involved by showing them websites about the destination and pointing out its positives. A virtual tour using Google maps can raise youngsters' interest in the move and encourage them to look forward to arriving and exploring. Introducing your kids to the new language before you leave is important, even if it's via the use of just a few important words, and it's a well-known fact that bilingual children develop higher IQs than their peers with only one language.
All parents know children thrive better on settled routines, with maintaining the existing ones a good way to encourage stability in the new environment. Sunday movies on TV, family breakfasts on Saturday and other staples of family life make the transition far easier for younger family members. Another way to start your kids' active enjoyment of their new home is by planning new activities specific to the region. Visiting local restaurants for a family meal out gives children a chance to sample a new cuisine and its sweet treats, and football matches are perfect for father/son get- togethers.