Shanghai considered one of the world's safest cities for expats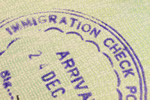 For expats heading to Shanghai but fearing for their personal safety, Italian police have given it the all-clear.
Every year, Shanghai invites a small delegation of Italian police officers to join in a joint patrol around several districts and meet up with Italian expatriates living and working in the massive city. This year's invitees, Ruben Lupi from Rome and Annamaria Pettini from the Italian branch of Interpol, visited several Chinese police stations and were impressed with the advanced technology and equipment helping solve crime in the huge conurbation.
Annamaria told reporters she'd been more than impressed with the obviously high level of organisation taking place. Whilst expatriates in the city probably had no idea the regular annual visit was taking place, its reports on local news were reassuring, as both visitors as well as other Italian expat colleagues living and working in Shanghai commented that the city was clean and safe. On a visit to the historic Bund district, Pettini was also impressed by the smart cameras monitoring the crowds of tourists and alerting the police when the crowds became too large for the area.
The Italian pair also patrolled along with the Chinese counterparts in the Jing'an Temple complex and met up with several Italian expats, including one who'd lived in China for six years and now believes Shanghai is one of the world's safest cities. This unbiased opinion was echoed by Guido, a resident expat for 19 years who now works in one of the city's Italian restaurants. One thing's for sure, would-be expatriates heading for Shanghai to start a new life and business needn't be concerned about their safety, as modern technology and an organised police force take care of everything.