Should newly arrived expats in Dubai consider buying rather than renting?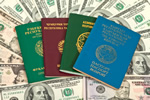 If you're heading for Dubai on a long-term contract, now's the time to consider buying a home.
The majority of expats living and working in Dubai rent a property rather than buying a home but, with real estate prices still falling, it makes more sense to buy in the emirate rather than investing in a buy-to-let in the home country. Given Dubai's long-term reputation for the luxury lifestyle with prices to match, plus the fact that more expats are now in the city for the long-haul, there's a good chance of property price increases during the years average expats spend in the Gulf State region.
Right now, it's estimated that Dubai apartment prices have dropped by 10 per cent and house prices are now cheaper by nine per cent since 2014, with the new developments coming onto an already slow market expected to cause more falls of up to 10 per cent by the end of this year. For expats planning to stay for at least seven years, buying rather than renting makes economic sense, even when considering the costs and fees involved in house purchase. As the market is considered not to have bottomed out as yet, finding a suitable property and negotiating an even better price is the way forward, according to real estate agents.
Even if expats buy for investment rather than living in the property, it still makes financial sense as returns on rental property average between six and eight per cent, higher than in Hong Kong or London. Financing fixed at 3.99 for the first year also helps, with low rates expected to continue for some time yet. One point to remember as regards buy-to-let is the upcoming Expo2020, causing an additional demand on rental properties and stimulating economic and business confidence which may spur a house price recovery.