Unique Ashgabat tops out on world's most expensive city listings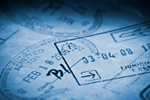 If you're the type of expat professional who enjoys flitting from city to city, collecting life experiences as well as job experience, the world's most expensive city is for you.
Even although you may never have heard of Ashgabat, don't let its name put you off, even although it sounds like something from the Lord of the Rings trilogy! This unique city is the capital of Turkmenistan and is famous for its expensive, flashy white marble architecture, seen everywhere along its almost empty streets. Its nickname is 'city of the dead', given due to the fact that very few citizens actually want to live there. For visitors and expats, it's hard to get visas as the entire country is run by a regime seen as repressive at best.
The reason why this strange capital city recently shot 110 places to the top of a survey of the planet's most expensive expat hubs is the economic problems being experienced by its government. The energy-rich Central Asian country is fraught with inflation and the resulting foreign currency black market has caused import costs to soar. Many of those in the know must have seen this coming, but no-one was able to do anything about it. The country is blessed with oil and gas, but expat professionals hoping to spend some time working in its extraordinary capital city might find it too much of a challenge.
Back in the real world, the two most pricey cities for expats are Hong Kong and Singapore, according to a survey launched by the Economist Intelligence Unit. Other destinations featured in recent surveys include Switzerland's Geneva, Basle, Bern and Zurich, the Japanese capital of Tokyo, Seoul, Shanghai and Tel Aviv, but they're nowhere near as fascinating as Ashgabat, nor do they command such a high salary as is necessary to survive amongst its white marble towers.