Saving for your expat retirement gives a great choice of retirement havens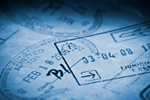 It may seem unlikely, but in the right expat destination and the right business sector, expat professionals are able to save as much as a million dollars during their overseas working lives.
Once retirement beckons, that amount of money opens up a magnificent selection of places you used to dream about in the early days of your career. Your needs, however, are the same as all expats' at retirement time – ease of entry, accessibility to quality healthcare, political stability, expat-friendly tax laws and a great climate. The cost of living isn't as relevant as it would be to those with less spectacular pension pots, and language barriers can be overcome with a degree of study and practice. At this level, there are a good number of suitable destinations, and you don't have to commit huge sums for a second passport in order to enjoy your new life.
Spain may not immediately spring to mind, but it's not all Bognor Regis, fish 'n chips and Watneys' Red Barrel. Cities such as Seville, Valencia and Barcelona have all you'd wish for, including fine dining, great shopping, many cultural events and a fascinating history. Mexico is a favourite for American expats, but you don't have to be a New Yorker to get the home of your dreams in any one of a choice of pretty colonial towns offering great shopping and the country's famously laid-back lifestyle. The real estate market is highly affordable, medical care is good and the infrastructure is reliable.
Costa Rica boasts unrivalled natural beauty, world-famous coffee, outdoor living and English-speaking communities, with beach-side properties along the Pacific coastline and villas in the Central Valley region equally affordable at this level. The cost of living is refreshingly low, and luxury is available when you feel the need to splash out. Malaysia is the new kid on the block as regards expat retirees, and is taking over from other Southeast Asian hubs in a big way.
With a million in the bank, it's easy to live like royalty, whether as a townie in Kuala Lumpur or a history buff in Penang. KL's affluent suburbs of Sri Hartamas and Damansara Heights offer luxury homes as well as all that's needed as regards restaurants and shopping malls. George Town, Penang's major city, is a historic remnant of the country's British colonial past, and is close by several of the island's glorious beaches. Malaysia's mix of cultures, from Malay through Chinese, Arabic, Persian and British influences mean there always something new to discover.
Hawaii is one of the more expensive destinations for expat retirees, but it gives amazing value for money via its sheer beauty, nature preserves, glorious beaches and delicious, freshly caught seafood. It's as close to an island paradise as it gets, with every possible convenience on tap and the lure of the ancient Hawaiian culture as a bonus. Choosing a city which best fits your needs is easy, and you may find you're living so far inside your means simply by buying ultra-fresh foodstuffs from local markets that you can save even more!