Expats in Kampot fearing inundation by Chinese developers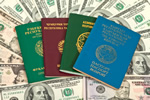 Many would-be expats who'd decided to make the move to Cambodia are now fearing a Chinese takeover of Kampot.
Cambodia is fast sliding up the scale of popular destinations for expats, particularly those looking for a peaceful retirement in a Southeast Asian country which welcomes strangers from across the world. A decade or so ago, Sihanoukville was the destination of choice, with many new arrivals choosing to buy their homes or even have them new-built by one enterprising expat architect who'd seen the opportunity for a successful start-up business. For some years, the expat community continued to grow, the beaches remained pristine and the little local bars and eateries did great business, with everyone enjoying their new lives – until the worst happened.
Sihanoukville's port is the only one in the region, a fact soon realised by Chinese developers who moved in and literally took over the town, at first encouraged by locals whose homes and businesses suddenly shot up in price. Nowadays, the once favourite holiday spot for Cambodians as well as expats is a wreck with dozens of casinos, street violence and piles of rubble and rubbish. The long-term expats who'd thought they've found paradise on earth soon moved on, along with those still in the planning stages. Kampot with its Old Town was the favoured replacement destination along with Kep, a few miles down the coast,
Set on the mouth of a river and still traditional in many ways, Kampot welcomed the new arrivals, helping them settle down and start again. Several years later, expat resident are beginning to get just a little nervous, as rumours of a similar Chinese invasion begun to spread. According to sources in the know, the Chinese are now taking over buildings holding rental apartments and kicking out the tenants, and have also been given permits to either convert or build 10 casinos.
It's true that Chinese emigrants have been living in Kampot for over two centuries, as they have almost everywhere in Southeast Asia, but modern-day Chinese investment including the massive deep sea port and a hydro dam suggests more Chinese involvement than is yet realised. The one positive in this threat to yet another Cambodian city is Kampot's still-pending UNESCO World Heritage application for its Old Town, if the Chinese decide to respect it and relocate away from at least this part of their traditional imperial ambitions.