Expat volunteers sought for Open House Prague architectural festival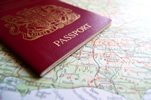 Prague is a feast of architectural delights set in varied historic eras, the best of which will be on show at an upcoming festival.
Expats interested in Prague's stunning selection of historic palaces, stunning rooftop views, ultra-modern fully-designed office spaces and luxury villas can volunteer to be part of the Open House Prague event. Festival director Andrea Senkyrikova explains that exploring buildings known for their architectural significance is a step towards creating more interest in the city's public spaces and historic mementos.
The event, now in its fifth year, has to date attracted over 185,000 visits from Czech citizens, expats and visitors from overseas and is a good opportunity for expats living and working in the Czech capital to share their love of the city with an international audience. This year's event will take place on the May 18 weekend and is expected to draw thousands more visitors as 38 more buildings are to be opened to the public for the first time.
Three of Prague's magnificent royal residences, the Hrzan Palace, the Liechtenstein Palace and the Trauttmannsdorf Palace are the stars of the show, with buildings designed by leading Czech architects including the Stenc House and the Laichter House also on show. Normally inaccessible spaces in cultural sites will include Stone Bell House's medieval cellars and the Troja Chateau, with around 3,000 volunteers helping ensure all visitors have a tour to remember.
Ms Senkyrikova told the media she's more than happy to contribute to the increase in opportunities to grow the culture of volunteering throughout the year as it gets together different generations, specialists, new arrivals as well as long-stay expats, professional architects, conservationists and enthusiasts, all of whom interact with members of the general public of all ages.
Currently, the organisers of the event are inviting English-speaking volunteers to apply, with help needed in various sectors including preparations, giving guided tours, catalogues and other crucial task ensuring this year's event is the best ever, but volunteers can also help in other cultural events throughout the year.