Visa free value of British passport affected by Brexit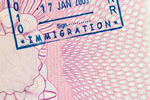 Expat business travellers reliant on visa-free entries with a British passport may be stymied post-Brexit.
The value of a passport is calculated by the number of countries which allow visa-free entry, an important issue for expats and business travellers looking to save time and money. Prior to the Brexit referendum, the British passport was one of the most valuable in the world but has now slipped way down the rankings of the Nomad Passport Index.
The survey rates 199 passports by examining five key criteria including visa-free entry, international perception of the issuing state, ease of getting dual citizenship and the issuing country's levels of personal freedom. This year's survey revealed Luxembourg's passport as the most desirable for its travellers and expats as it allows visa free travel to a total of 186 countries. Obtaining it gives expats living and working in the tiny country an edge when applying for citizenship.
Sadly for the UK, the British passport came in at 27th, having lost five places over the past year due to Brexit uncertainty and the chaos in the UK parliament. Out of the top ten passports listed, nine were those of European Union member states. The second-best passports to hold were, jointly, Swedish and Swiss, due to the countries' strength in privacy and civil liberties, and Ireland and Belgium shared fourth place for their low tax rates and high visa scores which ensure hassle-free travel.
Due to its reputation as the heart of the European Union, Belgium's passport is one of the top for visa-free travel, aided by its reputation for transparency and personal freedom. Passports issued by Portugal, Italy, Finland, France and Spain completed the top ten, but the worst in the world for visa-free travel and other benefits was the Iraqi passport only giving visa-free access to 27 countries.