New Pudong facility for work and residency permits delights expats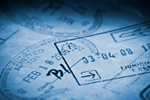 Expats living and working in Pudong now have their very own one-stop shop for residence and work permits.
Much to their relief, expats in the Chinese city of Pudong can now complete their residency and work permits in just five days. The old way involved visits to various immigration departments scattered across the city, the filling in of countless documents, many of which had the same questions, and the undergoing of a physical checkup before the right to stay and work was documented and confirmed. The entire, frustrating process took at least 12 days, even with green channel openings. As a result, expats now using the new, streamlined process are convinced Christmas has come again!
The Pudong government's reforms involve an online platform as well as a one-stop service page on which expats can book their physical checkups and make application for their work and residency permits. The previously required 94 questions on three separate forms are now history, and the single form now required is shared between different departments and has only 66 questions. One reason for the increased efficiency of the system is that its technology is based on artificial intelligence. Once the application is completed, expats can call at the Puding International Talent Hub office for verification and wait just five days for their permits.
A newly arrived expatriate from Germany was one of the first to use the new facility, and was more than happy with the centre's friendly welcome and efficient service. Previously, he'd had no idea Chinese bureaucracy could be easy to work with as well as so efficient, and was especially impressed by the centre's use of uploaded photos of expats' passports, thus replacing the former chore of filling out a form with basic info such as nationality, name and age. Given that China is possibly one of the most culturally confusing of all expat locations, the new, ultra-modern facilities for expats are more than welcome.