Insecure expats in UAE tempted by Cyprus residency via property investment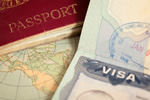 For expat professionals in the UAE who're feeling slightly nervous about their residency, buying a property on Cyprus might well be the answer.
As the tide begins to turn against the expats who helped build the Gulf States, those coming up for early retirement need to decide where to go next if returning to the home country isn't an acceptable option. As the saying goes, all good things come to an end, but anti-expat sentiment can accelerate the process, causing inconvenience at best and chaos at worst for those who haven't made preparations for their next port of call. Not all expats are prepared to return to the home country, and residency in several popular retirement destinations has taken a few hits, especially from the Brexit referendum result and the 2016 USA presidential election. One way out for financially careful expats who've saved rather than spent might well be a Golden Visa, but for others a specified Permanent Residency Programme is more affordable.
The formerly British island of Cyprus ticks most expats' boxes as regards weather, use of the English language, established expat communities, an affordable cost of living and the required amount of natural beauty and historical interest. Also of interest to expats planning a move are its attractive property developments, some of which will be on display at Bahrain's upcoming Gulf Property Show. For Brits whose plans to retire to Cyprus using the EU's freedom of movement have been smashed, the island's Investment and Permanent Residency Programme is an attractive way out of the dilemma.
Various surveys have identified Cyprus as one of the safest world countries as well as one of the favourite destinations for expatriates formerly working in the GCC. For those unable to lay their hands on several million euros, permanent residency can be had for as little as €300,000 spent on one of the island's ultra-modern, luxury new-build homes. The programme itself is straightforward, easy to understand and fast to implement, with the visa also covering the applicant's entire family including parents of both the applicant and his or her spouse plus dependent children up to 25 years of age.
In addition to permanent residency and freedom of movement across the EU, Cyprus's tax regime is favourable, its healthcare is high standard and two UK universities have campuses located on the island.
For expats with younger children, several reputable international schools provide international-standard education and the island's banking system is now reliable and trustworthy. The Cypriot economy is growing steadily, and those wishing to start their own businesses utilising their expat professional experience are more than welcome.