Visa free travel scheme derailed by yet another Gibraltar row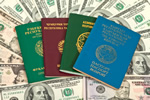 If you're thinking of hopping over to France or Spain on an exploratory visit prior to retirement as an expat, you may need a £52 visa!
Spanish demands regarding the status of Gibraltar have derailed the visa-free travel plan legislation intended to allow Britons to visit Europe without hassle. Yet again, Spain's argument is based on the disputed description of the British Overseas Territory as a 'colony' in the European Union statue book. Spain has the reluctant support of the remaining 26 EU member states in insisting a footnote with the disputed territory's contentious wording is included in the legislation. Yesterday, the EU parliament rejected the language and sent the proposal back for the third time.
If agreement isn't reached, Britons wishing to visit Europe, either on holiday, to check out retirement or expatriation destinations or to work will have to pay £52 for a visa. One Czech MEP told reporters the negotiations are now stuck, adding Brexit is going to hurt as it is, and lawmakers should attempt to mitigate the damage rather than make it even worse. Although the EU's position is that 'colonial language' is not relevant in the modern world, MEPs are attempting to replace its usage by simply stating both the UK and Spain have a problem over Gibraltar's sovereignty but, to date, the council is having none of it.
The visa issue would come about should the placing of the UK on a visa exemption list from March 29th not happen, an outcome which at present seems more than likely. If an agreement is reached, visas would not be required until 2021, even after a no-deal exit, In addition, after that date, UK nationals would only have to pay £7 for three-year visa-free travel within the EU. If the argument goes on and the UK crashes out, Britons will be in legal limbo as the UK won't be on either the EU exemption list or on the visa-required list. It seems no-one's betting on an agreement, perhaps as the row over Gibraltar's status has been ongoing for some three hundred years.