Thailand?s expat demographic for would-be new arrivals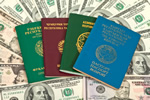 If you're dreaming about emigrating to Thailand, considering the various types of expat you'll meet might help your decision one way of the other!
Whether your reason for emigrating is work-related or you're thinking of early retirement, one factor which needs to be taken into consideration is the expat community itself in your chosen destination. New arrivals invariable need information and assistance and the Thai language is especially tricky to learn, plus the fact that few Thais outside major conurbations can speak English to a reasonable standard, if at all.
Nowadays a far broader section of the world expat community has arrived in Thailand from an ever increasing number of world countries. Even so, Brits and Americans still dominate numerically and are found in most regions and at the majority of expat events. The community at large is spread between those who came to work with international or internationally-linked companies, elderly male expats who arrived to retire and possibly improve their love lives, retired married couples and digital nomads stopping off for a while in whichever Thai city appeals at the time.
Perhaps the most derided group apart from those who're just there for the sex is that of elderly men looking for love, or what appears to be love at first glance. Many believe Asian women are more conciliatory, biddable and submissive, but they're in for a shock in the majority of cases! Others intend to trade in their older model for a young sexy Thai lady, of which there's a good choice in bars and on the internet. Most of these liaisons end predictably, but a few actually work, thus ensuring the wife's family is well taken care of financially.
The expat professional business community in Thailand mostly hangs out in Bangkok, spending inflated salaries on all the city has to offer as regards the high life. Most are single, working for multinationals and behaving as they would in any capital city anywhere on the planet. Expat English teachers are found all over the country, working for comparative peanuts in both private and public schools to persuade Thai youth that learning the world's second language will help their career prospects. Unfortunately, most of these well-intentioned expats fail miserably due to Thailand's education system.
Retirees from the West make up a good proportion of expats in Thailand, with many arriving back in the day when their home currency was strong enough to allow them to live on their not-too generous pensions and visas were far easier to get. Nowadays, currency exchange rates have taken their toll, inflation is hitting hard and Thailand is far less welcoming than previously. Recent and seemingly ongoing retirement visa changes are causing distress, with many expat retirees now preparing to leave for more accommodating lands.