Digital nomads and expat freelancers more likely to use cryptocurrency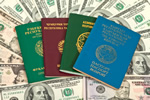 If there's one thing which cryptocurrency isn't, its boring.
Scarcely a week goes by without cryptocurrency being mentioned on several or more expat-aimed websites, with specific reference to its use by wandering tech specialists, digital nomads and freelancers across the planet. This would suggest conventional means of payment as well as investment are being shunned by a new wave of tech-savvy expats living their lives all over the world and travelling when it suites them – a lifestyle it's almost impossible to achieve using conventional banking facilities.
A new survey has reported freelancers including expats are the largest group of cryptocurrency users, with 38 per cent confirming regular usage, but 41 percent were non-users and an amazing 24 per cent had never heard of the alternative currency. Advantages for freelancers are obvious, and include facilities for international payments, low commission on money movements and no middlemen taking their cut of freelance earnings. However, financial professional opinions vary on the currency, with some believing it will outperform equities during the next 10 years and others believing it's a fad and will crash.
Over the past decade, the infamous bitcoin and other cryptos have outperformed other more traditional assets, have beaten the S&P 500 and are believed to be continuing their attack on conventional financial norms. The obvious downside is their undisputed link to suspected money laundering, with some 6,000 cases reported during the first 10 months of last year, an 800 per cent increase on 2017's total. However, the numbers make up just two per cent of the total of over 300,000 suspected financial abuse and money-laundering cases being investigated by police during the same period.
One well-known cryptocurrency fund manager is putting his money where his mouth is by betting a cool million dollars on his company's crypto fund, saying it will give higher returns over the next decade than Standard and Poor's 500 equities index. There's no-one taking on the other side of the argument by betting against him as yet but, according to experts, it'll be someone who thinks cryptos are worthless at worst or overvalued at best.
Either way, given the hoops expats and freelancers have to jump though to even transfer money between home country and international banks as well as the usurious charges and over-complicated regulations which must be obeyed, cryptocurrencies are likely to become de facto for the travelling expatriate community worldwide, thus saving money and making life less complicated for an entire generation of mobile expatriates.