Dutch mortgages for expat professionals see changes in 2019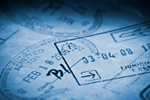 If you're considering taking on a long-term job in the Netherlands and buying a property, much has changed in the mortgage market compared to 2018.
Mortgage interest rates have been historically low for some years, with 10-year fixed rate loads charged at 1.7 per cent. Although it's almost impossible to make projections, the general opinion is that there are no indications necessitating a rise, as rates normally follow the country's economic development. Strong growth is usually the trigger, but last year's stellar performance doesn't seem to have transferred to January, especially as world growth is stalling slightly due to Brexit and the Trump trade wars.
In the Netherlands, the amount you're allowed to borrow for house purchase is regulated by a 'living quote' related to your salary and the percentage you're allowed to allocate to mortgage repayments. The 2019 percentage has been increased by 0.5 per cent, meaning most borrowers can take larger mortgages. For example, an expat earning 70,000 euros can now borrow 373,887 euros, an increase of 7,630 euros over last year's maximum. In addition, the country's National Mortgage Guarantee is subject to a considerable increase of 25,000 euros.
The guarantee means those forced to sell their homes due to unemployment, divorce or work disability won't be left with residual debts. It's a welcome increase as it's linked to the sharp rise in house prices, but it still doesn't quite cover most average prices in major cities. The loan to value link to the size of a mortgage remains unchanged this year at 100 per cent, but there's now an exception for home buyers who're planning to invest in energy-saving measures. Such purchasers can now borrow up to 106 per cent of valuation, provided the extra money is used to install solar panels, insulation for walls, roofs and floors.
On the downside, mortgage interest deduction allowances have been reduced, but in compensation, the highest tax rate bracket is also to be reduced. However, when and by how much is not yet clear. Income tax rates in general have been lowered, but the basic VAT rate is to be increased from 6 to 9 per cent, and minor levies and taxes are also set to rise.