Hong Kong still popular with expats but Singapore is coming up fast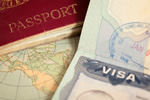 Given the eye-watering expense of Hong Kong living, why do so many expat professionals still choose to go there?
Recent liveability surveys have seen Hong Kong slipping further and further down the ratings, due mostly to the soaring cost of living, but even more expat professionals are arriving to see for themselves. According to the islands' Immigration Department, there's been a 30 per cent increase in the number of work visas issued over the past five years, indicating the city's allure is still powerful in spite of cost considerations such as eye-watering rental charges and massive weekly shopping bills.
High salaries are part of the answer, especially for expats used to average Western pay structures, and the exotic quality of the lifestyle is a major attraction, as is its proximity to a China which many expats consider is mysterious and fascinating. Another plus point is the opportunity to travel to various Asian destinations for short stays, but a major downside for health-conscious Westerners is the increasingly poor air quality and a spike in the number of annual visits from ever more powerful typhoons.
Working hours are long enough to seriously affect expats' work/life balance, with 12 hour days the norm and up to ten hours in professions such as teaching. As a result, stress is a risk. Even so, the fast pace of life and the unmissable vibes of ambition and, dare it be said, financial greed, are attractive to millennials who want it all and don't mind how hard they work to get it. One report issued last week revealed Hong Kong is increasingly unliveable to Asian expats, thus leaving the delights and dramas to their Western counterparts.
Asians and, it seems, a good number of Western expatriates now prefer Singapore as it's more 'civilised' and is a far more liveable destination with better access to Southeast Asian countries. It's also safer, has better healthcare and is home to a vast expat population. One of the city-state's downsides is that expat salaries average 10 per cent lower than in Hong Kong, but average prices are also slightly lower. For expats with families, both destinations suffer from a dearth of quality international schools, but quality healthcare in both locations is far cheaper than in the USA.