Secret government memo predicts 250,000 post-Brexit returnee expats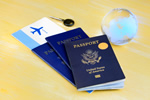 In spite of a number of EU member states' concessions towards the rights of UK expats, between 50,000 and 250,000 Britons are expected to repatriate to the UK post-Brexit.
The worrying totals originated in an internal government memo circulated by Whitehall's contingency planning department, and include a worst case scenario total of some 150,000 UK expats returning to the home country between March 29 and the end of the year, many of whom are expected to be pensioners. Another 100,000 are expected to follow during 2020. At the same time, the Department of Work and Pensions' estimate is far lower at 50,000, with the reason for returning given as a no-deal Brexit.
Some 1.3 million Brit expats are believed to be living across Europe, raising concerns that an abrupt exit from the EU would have serious effects on their lives and triggering a rush to return to the UK. Accessing savings and private pension payments and losing the ability to work or run established small businesses are major threats which, should they occur, would figure largely in the decision to repatriate. DWP estimates reveal planning is already underway for dealing with the estimated 40 per cent of British state pensioner returnees, and huge strains are predicted for services provided by the NHS and other social care organisations.
Basically, government departments are hoping against hope the vast majority of UK expats will be allowed to stay in their present countries of residence by means of guarantees of rights given by every EU member state. Although one government spokesperson told the media these assurances mean the worst scenario won't happen, there's no certainty as yet. In addition, there are fears that returnee Brits may be caught in the Home Office's policy of 'hostile environment' if they were born overseas to British parents. Should they not have visited before, there may be virtually no record of their names and the fact that they're British citizens by birth.
In spite of optimistic expectations about the numbers of UK returnees, especially in the case of a hard Brexit, the Brexodus from formerly favoured continental expat hubs would seen to have already begun. During the past five years, numbers of British expatriates in Spain declined by 157,107 with, in post- referendum 2017, some 8,000 leaving Spain for the UK or other non-EU destinations. Figures for 2018 aren't yet available, but a considerable increase on the previous year's total is anticipated.