For expat pensioners, talking up sterling may be premature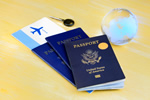 British expats' optimism over the plight of sterling could be seen as slightly premature.
British expat pensioners in EU member states could well be forgiven for hoping a currency exchange miracle is just around the corner, but it's probably far less likely than a snowstorm in the Sahara Desert. Sterling has been in the doldrums ever since the result of the 2016 Brexit referendum was announced, causing ever increasing problems for UK expatriates in the EU subsisting on the far less than generous UK state pension. As of now, the <a target="_blank" href="https://www.exchangerates.org.uk/brexit-pound-exchange-rate-tracker">pound has crashed some 20 per cent from its rate in 2015</a>, and rising inflation in Europe has made matters even worse for elderly expats without a substantial pension pot.
British expats on the continent who've decided to sit tight and wait out the Brexit chaos whilst watching their former friends pack up and head back home are now desperate for just a little good news. As a result, many are now taking notice of several recent Goldman Sachs and Deutsche Bank forecasts stating the banks' belief that the pound may have hit rock bottom and will rebound dramatically later this year. Deutsche Bank went so far as to state it's time to purchase sterling, causing a number of investors and expats to view the currency in a slightly more favourable light.
The two banks are validating their beliefs by linking a sterling rally with the removal of the risk of a no-deal or hard Brexit, with at least one expat expert saying it's possible, but not guaranteed. Dutch lender Rabobank's FX strategy head Jane Foley is the expert concerned, apparently basing her opinion on the possibility of a delay or a second referendum, either of which would take at least some pressure off fearful British pensioners.
Although possibilities come and go daily in Britain's chaotic government, it's true that sterling has seen small rises over the past week, ever since May's disastrous agreement was shown the door. Two alternatives come to mind, with the first linked with a softer Brexit agreement spurring a sustainable, sharp rally in the pound. The second alternative isn't worth thinking about, as experts believe a crash-out exit would see a 15-20 per cent drop from sterling's present value.
At this point, British expats retirees living in EU member states would also have two alternatives – either head for the nearest Channel port and join the queue or attempt to stay healthy on a minimalist diet of veggies and not much else. May has shown little or no concern for Britons living in the EU, preferring to ramp up her 'voice of the people' rants in the hope they'll save her job.
It's now winter in southern Spain, with snow expected and heating essential for the elderly, but today's political leaders would do well to remember the old saying – 'fine words butter no parsnips'. Sadly, should a no-deal Brexit become a reality, Brit retirees won't be able to afford the butter.