Chaos in Cyprus expat community follows rejection of May?s Brexit deal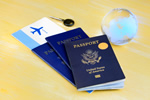 British expats in Cyprus are facing more uncertainty since May's agreement tanked.
As a no-deal Brexit looms, British expats living in Cyprus face a seemingly never-ending world of uncertainty. According to the British High Commission for the island, expats' situations will depend on future developments, adding it could not give any more information as the situation was still developing. Its spokesperson reiterated the Commission would keep expats informed by posting any changes on its social media pages and its website, adding that a quantity of already published guidance articles could be found online.
Cyprus's economy benefits from not only expats' contributions via taxes and monthly spends but also from capital investment in properties and expat owned businesses. A major contribution is its income from tourism, already taking a hit due to possible problems with flights casting a shadow over advance holiday bookings. The non-arrival of the usual number of British tourists will affect British-owned hospitality businesses as well as those owned by Cypriots. Recent reports have outlined the post-Brexit need for international driving permits for both expats and visitors, as the British driving license isn't recognised in the rest of Europe. However, Cyprus's British diplomats don't seem to have realised that Brit expat residents on the island have to convert their UK licenses to the local version should they wish to get behind the wheel.
Sources told local media no-one's got any real idea of what's coming, making it difficult to advise UK expatriates on the best way to proceed. Also of concern is the position of Cyprus's several sovereign British army bases and their 11,000 Cypriot work forces. Should the divisions be forced to relocate back to the UK, their departure would severely affect the surrounding localities as well as causing the closure of the many Cypriot-owned suppliers of goods and services. British expat civilians working at the bases would also be out of a job