Golden Visas finally under investigation for links to money laundering and organised crime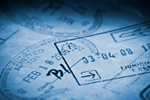 Following the OECD's blacklisting of 21 jurisdictions offering so-called 'golden visas', regulators are cracking down on links between the programmes, tax evasion and organised crime.
First brought in as an easy source of revenue for various governments and later consolidated into a straightforward if expensive way to get a second passport and citizenship, the so-called Golden Visas have always been controversial, to say the least. Finally, the Organisation for Economic Cooperation and Development (OECD), has blacklisted a total of 21 jurisdictions, stating those on the list are operating schemes which threaten the combating of tax evasion by international organisations.
The OECD examined more than 100 world countries offering citizenship and permanent residence, finding 21 of the schemes were high-risk in that they gave access to low rates of personal tax on income from overseas-held assets without insisting on actual residency in the jurisdictions. The Paris-based watchdog has also raised its concerns over the expansion of citizenship by investment programmes, saying they're reducing nationality to a marketable commodity whilst ignoring the link between corruption and Golden Visas.
Several states whose names appear on the OECD's blacklist are European Union member states, with regulators now applying intense scrutiny to their processes, claiming they make it easy for tax-evaders, organised crime and those whose wealth might well be difficult to explain to the authorities. Money laundering is high on the list of investigations, as are other illegal origins of cash used to purchase citizenship. Basically, say investigators, due diligence simply doesn't exist. The highest numbers of Golden Visas sold over the years came from the UK, Spain, Hungary, Portugal and Latvia, with Malta, Greece and Cyprus not far behind.