Which second passports give expats the most visa free entries?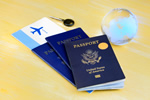 If you're looking to get a second passport to make your multinational travels easier, the Czech version is one of the worlds' most powerful.
Nowadays, political instability is the norm, with visas getting harder to obtain and world-wide travellers having to deal with even more bureaucracy as a result. One way around this is to get a second passport, a route increasingly chosen by expat entrepreneurs and world travellers enjoying the upscale version of digital nomadism. The lucky ones who've chosen the Czech Republic's passport can visit an amazing total of 183 world countries without having to worry about visas, making the little book one of the world's most powerful as regards total travelling convenience.
As flights get faster and the world gets smaller, second passports aren't just about business travel, as they're also a boon to millennials wanting to see as much of the planet as possible before global warming and massive piles of plastic bags take over. Applying for visas every time you move on to the next destination is a bore, expensive and often unproductive, making a change of destination unavoidable. Your Czech passport gets you just two destinations fewer than a USA passport or its UK equivalent and five less than a German or French passport, thus putting the invaluable visa-free travel document at number 8 in the world.
US citizens wanting to visit Brazil, Turkey or, obviously, Iran, are out of luck unless they apply for visas, but those with Czech passports can simply book a flight and go. However, if you're keen to see Australia, Mongolia, Equatorial Guinea, Namibia of the African Republic, the only way to go is via a USA passport. Using a German passport will get you into all the above, with the exception of Equatorial Guinea. The top three most useful passports are Asian, with holders of a Japanese passport able to stroll into 190 countries, and a Singaporean or South Korean passport gets you 189 countries. As regards the world's weakest official travel documents, Iraq and Afghanistan followed by Syria, Pakistan, and Somalia all offer visa free entry to an average of 32 countries.