Brit expats in the Netherlands advised of their post-Brexit rights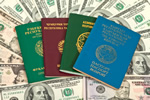 Brit expats in the Netherlands are being urged to check their mail boxes for a notice informing about steps they must take in the event of a no-deal Brexit.
British expatriates already working in the Netherlands as well as those about to relocate are to be informed by mail about their no-deal Brexit rights and how to stay in the country. Those already living, working or studying in the country will be sent a temporary residence permit prior to March 29, which can be used to prove the right to stay until the transition period, if any, is over. Following the end of the transition period, a residency permit will be necessary for those intending to stay.
For expats who've lived in the Netherlands for fewer than five years and can meet the residential requirements applicable to citizens of EU member states, a temporary permit will be issued. For those who've been resident for more than five years, applications for permanent residency permits must be received and are subject to the same conditions as EU expats. British citizens won't have to get a separate work permit and the fee for the residency permit is 57 euros. For expatriates who already have a permanent residency permit, new documentation will be needed, and will be issued without any charge.
Foreign workers will receive a letter from the IND advising where to collect a new permit after making an appointment. For students already attending Dutch universities, the standard fees will apply until the UK leaves the union, after which foreign students will be considered as third-country nationals and may be charged more for the course. For British expats in receipt of benefits such as rent, childcare or healthcare allowances, these will remain as long as circumstances haven't changed. For the time being, all UK expats can do is wait, remembering that rights are guaranteed until the end of the transition period, if any.