Tips for Brits still yearning for a Spanish retirement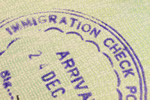 If you're still willing to take a chance on Spain, there are a few points to consider before you start packing.
Perhaps the most tricky aspect of arriving in the new country is figuring out how its bureaucracy actually works. The first step for newly-arrived expats is to get your Numero de Identidad de Extranjero – better known as an NIE for obvious reasons! Until you get this personal ID number you'll not be able to open a bank account, apply for residency, buy a home or a car, or even buy high-priced goods such as fridge-freezers, essential during the hot Spanish summers. Luckily, your NIE is easily obtained via your local police office, and those nervous about such matters can have a lawyer do it for them. If you're still nervous, finding an attorney on a pre-emigration visit and giving him power of attorney means your NIE can be sorted in absentia.
Your next must-have document relates to the Padron, a register of everyone living in Spain on a permanent basis. It's not an actual proof of residency, but is issued by your local town hall and used to calculate how many people are living in its area. One the numbers are established, the correct amount of government funding can be received in each town. Proof you're included is essential for registering your car, getting your children places in the local school and registering with your nearest health centre. Until the end of March this year, British driving licenses are recognised in Spain, but no-one's certain what will happen after the UK leaves the EU. If you can, converting your British license to its Spanish equivalent is straightforward, requiring just a basic medical check and a filled-in form. If you're planning to arrive post-Brexit, an international driving license might be a good idea.
Many UK expats in Spain are now signing up as official residents, citing Spain as their primary domicile and tax residency. This is also a step towards permanent residency, obtainable after five years. For permanent residency you'll need your Padron certificate and NIE as well as evidence of enough money to keep you from becoming reliant on the Spanish state. If you're of working age, enough income to support yourself is needed. As to finding a home, rentals usually run for 11 months, and suitable properties can be easily found online. Buying a home is far less legally complicated than in the UK, but state property taxes can add around 14 per cent of the total valuation and the annual property tax based on the Spanish authorities' valuation is far lower than its UK council tax equivalent.