Expats in Zhoushan now have a one-stop-shop for visas and permits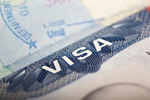 Expats working in the eastern Chinese province of Zhejiang's major city of Zhoushan are now able to get all the necessary permits at a recently-opened one-stop-shop.
In an effort to make life and doing business easier for new arrivals in the city, its Public Service Bureau now offers a single-visit service linked to an online application. New expat arrivals need to have their employer file a work permit application online and wait just two days for an answer. Once permission has been given, just one visit to the Public Service Bureau's dedicated desk gets the permits necessary, saving a great deal of time over the previous process.
Now that the timeframe for application is a maximum of seven days as against the previous 25 days, some 800 work permits have been issued over the past six months. The streamlined visa processing scheme is also in place to improve the smooth running of projects such as the city's Zhejiang Pilot Free Trade Zone-located Boeing 737 Completion and Delivery Centre. In November, one delivery pilot received his Visa C as issued to seamen and aircrew within just 10 minutes.
Zhoushan has also issued two Visa R's, given only to top-talented expatriate professionals, and seven American workers on the Boeing project have received their residency permits. Due to its nurturing of foreign talent, China is far ahead of the majority of world countries in providing services for talented expats wishing to work in the country or start their own entrepreneurial businesses. The government is well aware that nurturing international talent and allowing it to work within China is the brst way to stay competitive in the new world of 21st century innovation.