Advice on driving overseas for nervous expat motorists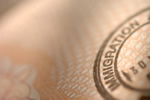 Driving overseas for the first time can be a nightmare, especially if your chosen destination drives on the 'wrong' side of the road!
For many expatriates, driving is essential as it retains the freedom to go whenever and wherever is necessary, even if surroundings are unfamiliar and road signs unreadable. Less than confident drivers may feel they can't cope, but being cautious on unfamiliar roads is a good thing when driving overseas for the first time. This may sound crazy, but many expats choose their favourite destinations based on use of the same side of the road as in the home country! In the real world, driving on the opposite side of the road takes far less getting used to than most motorists expect.
Every world country has its own set of rules of the road, with many differing somewhat than those in the home country. Researching before you arrive should familiarise you with the essentials such as speed limits, parking regulations and what you need to carry in your car in case of an accident. Memorising the most common signs and symbols also helps, and many are very similar to those used at home. Some countries require your headlights to be switched on 24 hours a day, and motorway and toll road speeds can vary from your former norms.
If you're looking to get a new car once you've arrived, choosing one with automatic transmission is the best idea as it leaves you free to focus on other drivers and the road ahead, and going for a small car makes parking easier and fuel costs far lower. If you're not sure abut your choice of car, renting for a while should help you make up your mind as well as helping you get used to your surroundings. If you've never used GPS, now is the time to start, as getting totally lost in a new city whilst not being able to speak the language is seriously bad news!
Don't forget to pack your home country license along with an international driving permit, as many countries require both before issuing you with a local driving license. You may need to take a test, but relatively experienced drivers don't often have problems with passing. If you're truly nervous about driving overseas, a few lessons once you've arrived should deal with your fears. Alternatively, if you have time before you leave your home country, taking an advanced driving course should give you all the confidence you need.