Expat communities and Spanish tourism still at risk from post-Brexit flight ban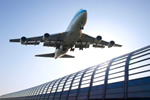 If you've just bought your Spanish dream home with the intent to visit occasionally until you retire, Brexit could wreck your plans.
Ever since the referendum result was announced, British-based airline bosses have been trying to find a way around EU regulations which would halt all UK-based flights across Europe including those to popular expat and tourism destinations. One of the most important routes used by many airlines starts via a number of UK airports and ends in a similar number of Spanish air hubs. Even although airline CEOs have been attempting for two full years to find a loophole which allows them to stay legally in the air post-Brexit, the threat to all flights from the UK involving EU airspace is still horribly real.
Spanish holiday destinations and expat hubs would be worst hit by this nightmare scenario, as tourism is a major part of the county's GDP and the many large and smaller UK expatriate communities make up a good proportion of regional GDPs. A meeting to stress the urgency of finding a solution was held in London last week between UK tour operators Thomas Cook and Jet2 and the Spanish tourism minister, Reyes Maroto, in a last minute attempt to get clarification on the way forward. For the Spanish government, supporting its tourism industry is essential, as it accounts for 11 per cent of the country's economy and 25 per cent of its revenues are raised by British visitors.
For British would-be expats who've recently made the decision to take a chance on Spain in preference to remaining in post-Brexit Britain, it's yet another dilemma. Many have bought Spanish second homes over the past year, hoping to be able to visit their properties regularly until they reach retirement. For Brit expats whose Spain-based businesses require frequent travel to the UK, the ongoing situation is causing stress and worry almost equivalent to the suffering of UK expat retirees in popular destinations. There's been no release of details which may have been discussed during the meeting, leaving expats with a need to plan ahead bereft of answers to their many questions.