Subsidence now a real threat to expat homeowners in the Netherlands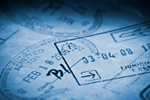 If you're planning to emigrate to the Netherlands, start a business and buy a home, take care over which location you choose!
It's a well-known fact that the Netherlands in its entirety is located below sea level and is only kept dry by its brilliantly structured network of sea walls and dykes, but recent reports suggest it may be sinking faster than previously believed. A Dutch government agency has released a new map detailing the cities and rural areas worst affected by subsidence as well as calculating the cost of prevention at trillions of dollars.
Most expats and citizens won't have noticed the growing threat, even if they're living in the regions most affected, but those in Gronigen and the western areas may become aware sooner rather than later. Gronigen is built on soil comprising clay and peat, both of which are easy targets for subsidence. Inland, the city of Gouda already sinks by around three millimetres each year on average, with some areas experiencing a drop of 10mm or more. Expats who've bought homes in these areas can expect to see cracks in walls, uneven doorsteps, flooding and damage to roads, and parks are now being affected.
Recent dry summers, natural gas extraction, agriculture and salt extraction are all speeding up the subsidence, and vast quantities of CO2 are being released as the peat in the soil oxidises. Doing nothing isn't an option, with municipalities and local governments in affected areas desperately seeking for remedies, however temporary. Given that the Netherlands is now a highly praised location for expat entrepreneurs, tech experts and professionals in many sectors, perhaps incomers should be aware that buying apartments or houses in these regions is a risk too far!