Sydney and Melbourne to be no-go zone for expatriate workers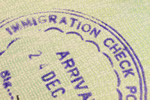 If you're planning to emigrate to Australia and have set your sights on Melbourne or Sydney – think again!
For decades, Australia has been a prime destination for expats looking to live, work or retire in either of its two major cities, Sydney or Melbourne. Sadly, both cities are now under a massive strain caused by overpopulation, forcing the Australian government to slash the number of new immigrants allowed to set up home in either megalopolis. It seems the population imbalance is mostly down to a high volume of immigrants heading to the ever-popular cities, leaving the rest of Oz's conurbations and rural regions short of residents.
Changes in the structure of Australia's immigration visa policies are likely to include new regulations as regards where incomers are allowed to settle, although they're unlikely to apply to those with employer-sponsored visas who make up some 50 per cent of new arrivals. For others, new visa conditions are expected to stipulate incomers must accept allocation to less populated cities and towns for at least a five year stay before being allowed to move to major cities. At present, a full list of cities which will be effectively prohibited to incomers has not been announced.
One thing's for sure, any changes to the existing visas as regards where immigrants are allowed to settle will need to take into account incentives which ensure life in regional areas is made as attractive as possible for potential incomers. No details have as yet been announced as they're still under review, but discussions are under way on a points-based system which allows fast-tracking of temporary workers who're happy to settle in smaller towns, cities and even in rural areas. Whatever the end game is, once the government has decided and published its plans they will be introduced some time in 2019.