City of London expats have huge choice of new locations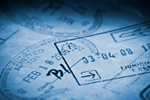 Which European capital to choose if you've no confidence in post-Brexit Britain?
As Brexit creeps closer with no solution in sight, long-term professionals working in the City of London may well be considering which European capital is the best destination for their talents. The rush of financial companies to exit before Brexit is becoming a stampede, with heavily-funded campaigns vying to attract the brightest and best as well as their employers to various European cities. Some 5,000 City jobs are likely to be lost to London as more roles are transferred overseas in order to be able to continue serving established clients. By the time the Single Market Passport is no longer available in the UK, savvy companies will have created the necessary structures to continue their European business uninterrupted.
Right now, Frankfurt is the favourite alternative, with 25 major banks now establishing themselves in Germany's financial capital, much to the chagrin of Paris with its only eight subsidiaries so far. Frankfurt's success is down to its decision to forget about asset managers and ignore the insurance market, concentrating instead on banks, especially those headquartered in the USA and Japan. Tailored presentations took place and proved successful, whilst France continued to push Paris as a one-stop-shop financial centre. When that strategy failed to get major results, the French aimed their offers to fast-growing fintech firms at present based in London. Last month's French event was pitched directly towards relocation from London to Paris, citing the move as an investment decision. France is also hitting on anchor firms across many aspects of financial services, including the entire European Banking Authority, giant Blackrock and the US's Citygroup.
However, it's not the only country bidding for dominance in at least part of the worldwide financial sector, as little Luxembourg is attempting to corner the fund management niche by offering an ongoing relationship across the Channel. It's attracted a good number of insurers, gaining some 3,000 jobs as a result, whilst Amsterdam has won with its super-fast data transfers and will host traders as a result, including the London Stock Exchange Group. At the same time, asset managers are heading for Dublin. For expat professionals in the financial sector, the world, or at least its European slice, is now their oyster, giving a choice of destinations dependent on individual expertise. If Germany isn't your thing, Paris may well be, dependent on individual areas of expertise, and for new entries to the sector, Luxembourg might be a good starting point. One thing's for sure, all the City of London replacement capitals are ready to welcome top-talented expat professionals with attractive salaries, perks and the best of everything the cities have to offer.