Key factors for expats looking for a mortgage in Spain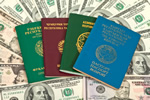 Decades ago, Spain was just a summer holiday destination for Brits, but nowadays it's a hub for would-be expat home owners. Permanent residency is the aim nowadays, with British retirees, entrepreneurs and property investors rushing to secure a home in the sun before March next year.
The housing market is springing out of its slump and Spanish banks are offering expat mortgages. There's no shortage of suitable properties whatever the reason for emigration, but it's best to know the rules and find out what's the best loan for your circumstances. Spain's favourable laws mean its government is actively encouraging expatriates to invest in Spanish property, even to the extent of providing mortgages to non-residents. However, the range of loans available can seem limited, as EU resident and UK taxpayers have access to the same products provided to Spanish citizens.
For many Brits, the top choice may be a expat mortgage loan from a UK bank, as the process is faster and it's easier for the bank to check applicants' creditworthiness. However, although there's the advantage of documents in the English language, higher interest rates and post-Brexit economic instability may well push up costs. As a result, borrowing from a Spanish bank as a non-resident is becoming more popular, as interest rates are a deal more competitive than at home. Spanish mortgages are calculated using the Euribor rate and adding a margin, with the rate now at an all-time low following nine years of decline. Savings over and above the British interest rate can rack up over the life of a mortgage by a tidy sum. The downside is that Spanish banks aren't' protected by the UK's Financial Ombudsman Service, leaving borrowers out in the cold if something goes badly wrong.
The documentation required for a Spanish mortgage application will include proof of income, ID including your passport, current property deeds if any and bank statements. A Spanish NIE number is also mandatory, and applicants are urged to apply to the Spanish consulate, police station or embassy early in the house-hunting process, as processing the application takes time. Apart from the need for document translations the process isn't dissimilar to its UK equivalent, but getting a local advisor on your side is recommended. If you're planning to make your monthly payments through a sterling bank account, using an online company specialising in foreign exchange will save a serious amount in fees for international transfers as well as on the exchange rate itself. Such services convert at the mid-market rate, making them far cheaper than your British bank with its policy of transfer fees as well as inflated exchange rates.
Spanish mortgage rates are variable, with marginal interest rates between 1.8 and 3 per cent, and fixed rate loans coming out at around 2.4 per cent to over 3 per cent. Another way to save money on transactions is to open a euro account with an overseas bank. This way, you can convert sterling to euros when rates are favourable and hold on the currency for when your next mortgage payment is due.