UAE to launch long term visas to attract top talent expats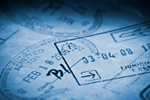 The UAE is about to launch 10-year visas for expat professionals and investors in order to attract top talent and international cash.
In a recent announcement, the UAE's Federal Authority for Identity and Citizenship confirmed its board has given the go for a plan implementing all cabinet decisions affecting visas made over the past two months. The thrust of the new changes is aimed at top-talent expats and wealthy investors, offering 10-year residency visas to expat professionals specialising in the scientific, medical, research and tech sectors as well as to innovators and practical scientists.
In addition, five-year visas will be offered to students from overseas planning to study at UAE universities, and those with exceptional academic qualities will be granted 10-year visas. At the present time, expat students studying at the emirate's universities hold visas sponsored by their academic institutions and must return to their home countries once they've received their degrees. The UAE is also about to undertake a review of the residency system to include students being allowed to be sponsored by their parents after finishing their university education. The change would encourage talented graduates to stay in the emirate.
Meanwhile, expats re being warned to make sure they receive a sales invoice when purchasing a new smartphone. The warning comes after one expat landed himself in big trouble by purchasing a smartphone without an invoice, being caught by police and accused of buying a stolen phone. The hapless expat is now in prison for three months and has been fined Dh5,000 for ignoring legal procedures for the purchase of goods. He told the court he had no idea the phone had been stolen, but investigations showed the seller had fled the country following the sale.