Studying overseas is now mainstream for expat students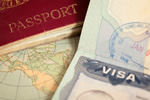 Not all expats are working overseas or retiring overseas – a huge number are students attending foreign universities.
In this modern world there's a huge variety of degree courses and other study opportunities scattered across major cities worldwide. It's an exciting time to be a student and, for many, overseas universities provide an opportunity to gain affordable qualifications. Other options include study-and-work-abroad programmes, and online universities provide accredited qualifications coupled with the freedom to study anywhere and everywhere.
Students and graduates aiming at higher degrees on overseas courses have one major advantage over their counterparts in the home country – their exposure to new, valuable cultural dynamics which make them far better equipped to pursue an international career as well as becoming better-rounded human beings. Nowadays, studying abroad has never been easier, and exploring a new, totally unique educational system as well as a new lifestyle pays valuable dividends in later life. A number of destinations are now providing everything an ambitious student could wish for.
China is the latest international destination proving attractive to adventurous students, with its recent reforms meaning many younger Chinese now speak English. It's a fascinating destination giving a unique perspective on study and work, and is rightly becoming known for its business degrees. Getting post-graduation work is easier than in many other countries due to a plethora of multinationals looking for the brightest and best graduates.
Australian universities are favourites with Londoners as their cultural aspects are a reminder of home. The continent's multicultural population makes meeting new people from unfamiliar cultures easy, and the education system has high standards. India is becoming ever more popular as a student destination, with English as the second language due to the sub-continent's former history. Its EU Erasmus programme attracts thousands of British students every year. For students on a very limited budget, it's easy to get a part-time job as an English language tutor.
Barcelona and Madrid both have English university student communities, with courses including the widely-spoken Spanish language. At present, no student visa is required, although this may well change post-Brexit. For those wanting a totally new study experience, South Africa gives a fascinating mix of cultural differentials including traditional African influences along with British and European elements and combined with a slower pace of life than in Europe. The above nations are the most popular with UK students, but all over the planet there are young expats enjoying educational opportunities on an international scale, all of whom are determined to become truly global citizens.