Celebrity lawyer gets dual French-UK nationality for his dog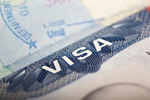 A dog-loving celebrity lawyer has sidestepped the Brexit effect on the free movement of UK pets by getting his Staffy a second passport.
Whilst thousands of British dog owners both resident and expat are worried sick about the Brexit effect on their beloved furry friends, celebrity lawyer Nick Freeman has cut through the red tape by getting his Staffordshire Bull Terrier a French pet passport in addition to his UK one. Five-year old George, now an official dual nationality dog, is more than happy his owner won't have to leave him behind on his regular visits to his second home on the French Riviera.
Nick, best-known as Mr Loophole for his defence of mega-motoring clients, can't bear to be parted from George and doesn't want to give up on his French home. His first call was to French veterinary officials, who confirmed his scheme was legal as the pet passport conferred French nationality on George. The loophole worked, and George is now officially a dual citizen. His owner is convinced his discovery can help the thousands of British dog-lovers and owners living in France ensure they can take their pets with them when travelling to the UK from across the channel.
Nick and George drive to the South of France and spend time at their second home several times a year, and Nick simply wasn't prepared to take the trip without his doggy companion, making finding a solution mandatory. The French version of the pet passport is the same as its British equivalent with strict guidelines on microchipping, vaccinations and clearances from infectious diseases. Five days before leaving France, dogs must be taken to a vet and shown to be healthy, and the pet passport is examined on arrival in the UK and in France. Nick told the media he'd got the idea from reading a report on Remainers with connections to the Irish republic getting dual nationality – exactly what he's done with his much-loved dog.