Fluctuating expat packages in Asia hit Singapore hardest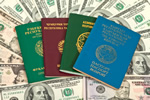 A recent survey concentrating on pay and remunerations for expats working abroad has noted Singapore's cost of employing an expatriate has fallen by around US$12000.
When costing an expatriate package, companies factor in three main elements – cash salaries, tax and benefits such as international school costs, accommodation and utilities including cars. For an expat at middle management level heading for Singapore, the estimated full cost is now US$223,095, a fall of US$12,450. The drop is one of the most dramatic in the whole of Asia and is due to lower salaries in addition to falls in costs of certain benefits. Even so, the city-state is still one of the world's 20 most expensive countries as regards expat staff costs, despite taking into account low personal tax rates.
Singapore's next-door neighbour Malaysia saw an even larger fall in the average expatriate relocation package at around US$17.188, leaving the destination right at the bottom of the survey's list of 40 countries. Although not as expensive as Singapore's, Malaysia's living costs at the level considered suitable for expat professionals aren't exactly set at bargain prices.
Elsewhere across Asia, Hong Kong's pay packages for expatriate professionals actually rose during 2017 after hitting a five year low point in the previous year. The cost of a typical expatriate pay package is now set at US$258,514, a £3,027 increase . The four per cent marginal rise plus the inflationary effects on benefits costs are considered responsible for the slight increase, and Hong Kong is still considered one of the world's most expensive locations for expat professionals.